When:
October 27, 2019 @ 9:30 am – 11:00 am
2019-10-27T09:30:00-04:00
2019-10-27T11:00:00-04:00
Where:
Kenyon Presbyterian Church
1630 County Road 30
Dunvegan
Ontario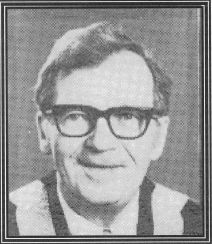 Rev Dr. Donald MacMillan's donated a partial collection of his extensive library to Kenyon Presbyterian Church.   A special ceremony will be held to dedicate this library that will pay tribute to Reverend Dr. Donald Niel MacMillan, on Sunday, October 27 as part of the 09:30 Anniversay Sunday Worship Service.
Below is brief biography of the Rev. Dr. Donald MacMillan which includes the years of his life serving as Minister of Kenyon Presbyterian Church.  It is reprinted here with permission of the Presbyterian Record published by the Presbyterian Church in Canada.
***********************************************************
"Are you bilingual?" the elder asked the young candidate for the vacant pulpit of Kenyon Church, Dunvegan, Ont. "Yes, I have the Gaelic," he replied.
Thus, in 1935, Rev. Donald Neil MacMillan began his ministry of 24 years near the place of his birth and boyhood. And there, in the graveyard of the beautiful old kirk at country crossroads, we buried him in July 2003, age 93. He is survived by his daughter-in-law Claudette MacMillan and grandchildren Sebastien and Sarah.
Born in Finch, Ont., in 1909, Donald MacMillan responded to the call for ministers issued by the struggling Presbyterian Church in Canada after the 1925 disruption. Entering McGill University, Montreal, in 1926, he graduated BA in 1929 and MA in 1930. He proceeded to The Presbyterian College, Montreal, where Rev. Dr. F. Scott MacKenzie was principal. Graduating in 1933, Donald won the "Scotch Presbyterian" scholarship and two gold medals — the prestigious Calvin and the Drysdale in church history — and was one of two graduates who completed honours studies to receive the BD degree. He went immediately to New College in Edinburgh to pursue doctoral studies under the famous systematic theologian Hugh R. Mackintosh, graduating PhD in theology in 1935.
Returning to Canada, Donald MacMillan applied to the now vacant Kenyon Church where he had often preached as a student. He was ordained and inducted on July 4, 1935. The first five years were full of promise, particularly in youth work. By 1936, the Young People's Society had more than 100 members.
In 1936, he married a woman of exceptional grace, Jean MacLean of Ottawa. This happy couple never complained of their lot, despite losing infant Flora and, later, Robert in his young manhood (their eldest son, Donald, followed soon after Jean's death). Jean, a homemaker, was renowned for her hospitality and her recipes are still in circulation.
Donald's care for church and manse became evident, including his passion for cultivating gladioli, which he exhibited in Ottawa. His diligence in preaching, visitation and the social life of the community is renowned. His travels on the primitive roads were especially difficult, as passengers in the rumble seat of his Plymouth coupe learned. He loved music, especially the Scottish Psalms (pronounced "Sams") and paraphrases, and he often quoted the hymn "God is working his purpose out, as year succeeds to year."
In December 1940, Dr. MacMillan joined the Royal Canadian Air Force as chaplain, being granted a leave of absence by the Presbytery of Glengarry. He served at airfields in Salisbury and Oxford, England, then at RCAF district headquarters in Inverness, Scotland. Here his patience and fortitude served him well, for wartime travel in Scotland during the next two years involved hitching difficult rides in various warplanes (through bad weather and sometimes forced landings) to visit his scattered flock. This wartime experience of pastoral duties to the scattered military personnel under his care also allowed contact with his (and Glengarry's) own roots in the Highlands and Islands.
In September 1945, the MacMillans returned to the manse in Dunvegan. The next 14 years were fruitful in visiting his rural parish (including a notable increase of young people), serving Communion to 200 communicants at a time, holding old-time services and hosting visits of the Clan MacLeod chiefs. He was elected moderator of presbytery three times and once of the Synod of Montreal and Ottawa (1949-50). During this period, extensive renovations of the church were accomplished, still on view in the beautiful building and grounds. Dr. MacMillan was appointed by the General Assembly of 1954 to be convener of the board of education and of the committee on reception of ministers and licentiates, positions of responsibility he fulfilled for the next five years.
A major change occurred in 1959 when General Assembly appointed him to the chair of systematic theology at The Presbyterian College, now open by the resignation of his old teacher and mentor Frank Scott MacKenzie (he had previously substituted when Dr. MacKenzie was on leave as Moderator in 1950-51). Farewell services took place in Dunvegan in September. Prof. MacMillan's inaugural lecture, entitled Theology and the Preacher Today, was a fitting overture to his emphasis on theology as a practical science for working ministers. His love of biography reinforced the sense that preaching is a marriage of the gospel with an individual personality.
The new Systematiker maintained a heavy schedule of classes in the bachelor of divinity curriculum and also served as registrar. His lectures provided a disciplined and erudite approach to doctrinal studies, delivered by a kindly and patient teacher. In 1972, after a sabbatical in Geneva, he was appointed acting principal until he retired in 1978. In 1979, The Presbyterian College named him an honourary Doctor of Divinity. Jean and Donald moved to a bungalow built on the MacMillan pioneer family farm in Finch Township, where their son, Donald Kenneth, MD, resided.
Dr. MacMillan's interest in the history of Glengarry was profound. He was an executive of the Glengarry Historical Society and wrote historical notes for the annual bulletin of the Maxville Highland Games as well as the Historical Sketch of Kenyon Presbyterian Church, Dunvegan (1940, revised 1993).
He also wrote the definitive history of The Kirk in Glengarry (1984) — 474 pages with 235 photos (now out of print). Glengarry was first a military settlement for Highland regiments after the American Revolution, bolstered by waves of "Highland Scotch" immigrants. The narrative begins with John Bethune who came from North Carolina (a Scots colony originally from the Isle of Skye) in 1793. With grace and shrewd irony, the author provides stories about the normal and the eccentric — from the reluctance of the church to admit organ music to worship services (and even fiddle music at socials) to the saga of revivals and conversions. Its concluding chapters, Gifts to Ministers and Anecdotes and Analects are gems of good humour.
The book is a fitting tribute not only to the county Donald MacMillan loved but also to its people, so like their ancestors in deep faith, loyalty to their kirk, and human foibles. His ministerial predecessor, Rev. Charles W. Gordon (Ralph Connor), wrote The Man From Glengarry in 1901 and its characters seem little changed in the MacMillan tenure. The linkage with the ancient clans and families of Highlands and Islands is a permanent reminder of the tale of suffering and hope invoked by the very name Glengarry and a splendid testimony of the wisdom of the late Donald MacMillan, "a scholar and a gentleman."