Worship Services are at 09:30 am
———————————————————————————–
Thanksgiving Sunday the Kenyon Youth Strings performed for the worship service
————————————————————————————-
Sunday Worship now at 09:30 until the end of December 2023
————————————————————————————-
Kenyon Memorial Sunday Service  – September 3, 2023 – Highlights
Kenyon Youth Strings provided enjoyable musical selections during Sunday worship service.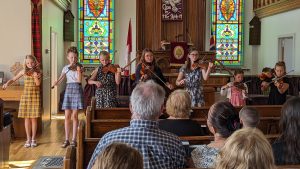 Worship services for Kenyon will be at 09:30 am from September through till the end of December, 2023
——————————————————-
Check out this moving tribute honouring Kenyon's Memorial Day.
Talented musicians are: Shelby McRae, Brenna Villeneuve, Kenzie McRae and Cadence MacIntosh.
Special thanks to producer and director Ashley MacLeod McRae
—————————————————————————-
—————————————————————-
Mother's day slideshow of messages from the St. Columba and Kenyon Congregation Children
[metaslider id="2581″]
Mother's Day Video messages from the Kenyon and St. Columba Congregation Children.  Click the video link to listen to or view the video.
Candice Mothers Day – Click to download or click play button below to only listen to audio only
Video by Kenzie McRae – Click to download or click the play button below to listen to audio only
Video by Shelby McRae – Click to download or click the play button below to listen to audio only
Poem by Brenna Villeneuve  – Click to dowload or click the start button below to listen to audio only
Lest We Forget – Remembrance Day 2020