Pioneer Cemetery Dedication
On June 10th, 2012, the members and guests of Kenyon Presbyterian Church held a special service that included the dedication of the sign at the Kenyon Pioneer Cemetery on Skye Road.  The following story behind the history of the cemetery and the acquisition of the sign was composed and read by Catherine Ann Gauthier.
To-day as we gather here on Skye Road for the dedication of Kenyon Presbyterian Church's "Pioneer Cemetery" sign, we can imagine back about 200 years, when our forefathers gathered in this same place, to worship God with singing of Psalms and reading from His Holy word.  Sunday school was held at the same time, was well attended, probably under the shade of a maple tree.   Those settlers who gathered here had the idea to build a church.
An ancestor of Robert Campbell of Dunvegan, Mr. John Campbell, donated a plot of land on lot23 of the 9th concession of Kenyon Township, and a small cemetery was laid out.  Over the years, a number of people were buried there.
However the four corners in Dunvegan were deemed a more central location for a church.   Around 1840 the building of the log church was begun, on land donated by Norman [Captain] McLeod, with a graveyard laid out beside it.
The early graves in the cemetery on Skye Road were exhumed and re-interred in the Dunvegan graveyard, with the exception of one Ranald Campbell, who died from small pox.  His grave has not been disturbed doe to the fact that he died from a contagious disease.
In 2008, Leslie Clark, a previous owner of the property, showed Dona Addison, Jean MacLeod, and Margaret MacLeod the location of the Pioneer Cemetery, which lies virtually untouched since those early times.  A stone fence that once had surrounded the cemetery was removed in the 1930's.
In 2011, Merrill and Edward McKendrick, the present owners of the property gave their approval for a sign to be erected on the site.
With the consent of the Kenyon Church Session, Women's Association of the church purchased the sign from a Cornwall company. With the help of Jack and Linda Fraser, the sign was installed on December 5th, 2011.
The Sign reads: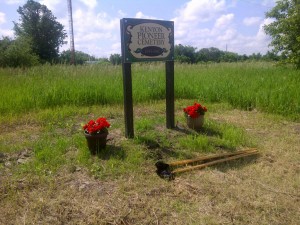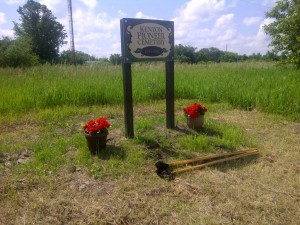 Catherine Gauthier